Richard has been in the cast of many of the well known and loved dramas on UK TV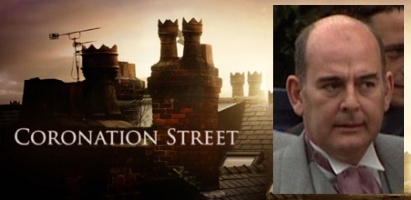 1999 to 2003: Richard played Derek Heavey in Coronation Street on a recurring basis. Derek Heavey was the father of the late Maxine Peacock.

Richard has also played characters in Brookside, Eastenders, Emmerdale, The Bill, Casualty, Heartbeat, Holby City, Doctors, Where the Heart is, Midsomer Murders, Law and Order, Dalziel and Pascoe, Soldier Soldier, Pie in the Sky, The Practice and Shine on Harvey Moon.


Here are the details of some of those appearances

"The Escape Artist" (1 episode) BBC
Episode : Episode 2 (5 November 2013) - Bob Forsyth
Director: Brian Welsh
"Law and Order" (1 episode) ITV
Episode : Intent (7 August 2011) - Roger Leighton
Director: Julian Holmes
"Midsomer Murders" (1 episode) ITV
Episode: The Oblong Murders (25 May 2011) - Mr. Oliver
Director: Rennie Rye
"Holby City" (1 episode) BBC
Episode: Thursday's Child (15 June 2010) - Mr Albers
Director: Dominic Keavey
"Where the Heart Is" (1 episode) BBC
Episode: Flesh and Blood (3 September 2006) - Councillor Simmons
Director: Jan Sargent
"Doctors" (1 episode) BBC
Episode: Voice of Reason (14 May 2003) - Richard Bradley
Director: Dominic Keavey
"The Last Detective" (1 episode) BBC
Episode: Tricia (21 February 2003) - Hicks
Director: Pip Broughton
"Mersey Beat" (2 episodes) BBC
Episode: Unexploded Bombs
(6 August 2001) - Sgt. Chris Armstrong
Director: Richard Signy
Episode: For Better or for Worse
(3 September 2001) - Sgt. Chris Armstrong
Director: Robert Del Maestro
"The Glass" (1 episode) ITV
Episode: N/A (24 June 2001) - Roy Porter
Director: Philippa Langdale
"EastEnders" (2 episodes) BBC
Episode: N/A (9 January 2001) - Mr. Kendrick
Episode: N/A (1992) - Prison Chaplin
Director: Sue Dunderdale
"Coronation Street" (several episodes) Granada
Episodes: N/A (from 26 September 1999) - Derek Heavey
Directors: Various
"Dalziel and Pascoe" (1 episode) BBC
Episode: On Beulah Height (12 June 1999) - Tom Perriman - diver
Director: Maurice Phillips
"Births, Marriages and Deaths" (1 episode) BBC
Episode: N/A (22 February 1999) - Photographer
Director: Adrian Shergold